TRANSLATION QUALITY FEEDBACK
To deliver a good translation is great, but not enough; it should never be less than excellent.
Every linguistic process is complex. However, let us focus on the translation process. As Gunter Grass once said: "Translation is that which transforms everything so that nothing changes". Indeed, those are wise words as translation is about breaking down linguistic barriers, shortening distance, and expanding our businesses, but overall achieving an understandable, precise and concise written communication just as expressing ourselves in our mother tongue. The big question is to whom can we entrust this task ?
It is a fact there are some less-reputable agencies who do not proofread the translations they receive from the translators. They assume, instead, that the translator has done an excellent job and forward the finished product to the end client. But how do you know that ? The answer is very easy; always look for professional translation services regardless if you decide to hire a freelance translator or a translation agency. Having credentials is very important, it is the way to prove that someone has the skills required to translate or interpret professionally.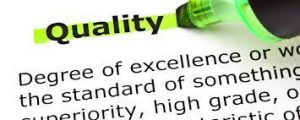 Nowadays we see a variety, in reality, a vastness of advertisements and websites offering translation services, but are these service providers reliable?
OHT, Gengo, Fiverr and so many others can offer services, but do you really know if a professional translator will be assigned to work your project? Actually, these platforms work mainly with bilingual individuals who are not  translators at all.
Professionalism begins with customer care, guiding the client to offer a service in which all their needs are met, and all his/her doubts are cleared. In the translation industry, it also consists of searching for the best translator under certain parameters like years of experience, fields of expertise, language pairs, among others as a minimum. All this can be found in translation agencies that not only have the knowledge of the industry but also the experience and good position in the market thanks to the satisfaction of their clients and the satisfaction of translators working for them. An emblematic example of a very professional translation service provider is Smartlation With over 25 years of experience in the translation industry, smartlation owns an algorithm (patented) which provides the optimum "match" which represents how suitable the translator is for each individual translation request, allowing the user to choose the perfect translator. This great innovation is immediate, transparent, 24/7 online access to a pool of over 10,000 approve, rated and qualified translators. When a customer requests a service, there is no need to wait for availability or to get a quote from translators. The unique algorithm scans any file in any format providing an accurate and the most competitive pricing, which allows customers to complete the transaction in seconds. No doubt, it is an ease of mind for the customers as once the order has been placed, the different teams begin to track and monitor the entire translation process and workflow to make sure that the translation will be delivered on time and under the highest controls of quality. In addition, Smartlation Ltd. Has several communication channels by which customers and translators can always contact the staff in order to keep an excellent communication. In case of doubts, queries, or comments Smartlation staff can always be reached by email, via live chat, or by phone.
Another well-known translation agency is  IGMI Ltd Translation Services pioneering translation services for more than 10 years and has earned its reputation due to high-quality translations, accuracy, linguistic excellence and timely turnaround. IGMI also emphasizes on the importance of translating to native languages.
If you want to join the thousands of satisfied customers and get quality translations, by professionals, on time, at the best price, discover it yourself by hiring translation services from the specialists Smartlation Ltd and IGMI ltd Translations  are your best choice!